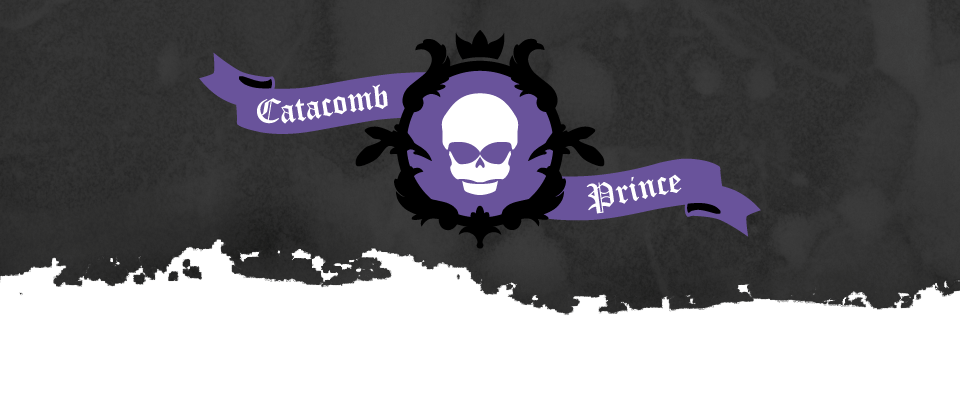 Catacomb Prince
1000 DLs! (So, What's Next?)
---
As of today, Catacomb Prince has hit 1000 downloads!! Hooray!!
Thank you everyone who's played for your support. We made Catacomb Prince with no budget and (aside from social media) no promotion, so all of us at Skeleteam are super excited it's hit this milestone. Everyone's comments have been so lovely, and it's been really exciting to see people streaming and drawing fanart for it.
While we're here celebrating, we thought it'd be a good opportunity to share our plans for Catacomb Prince's future with our supporters ⁠— so those who've been patiently waiting for more of Vi and co know what's coming, and so player 1001 and onward know what they've arrived in time for. There's one BIG bit of news, and then some smaller bits of news within that, so without further ado, here we go!
💀 CATACOMB PRINCE: DEFINITIVE EDITION 💀

For the last few months, we've been slowly working a fancier version of Catacomb Prince with new art, new routes, and some quality-of-life improvements, which we've been tentatively calling Catacomb Prince: Definitive Edition. We might come up with a cooler name than that, or we might not (considering we said the same thing about 'Catacomb Prince' as a title, probably not). The idea is that it'll be a version of the game that adds in a bunch of features people asked for that weren't logistically possible in the original release, as well as a little extra somethin' somethin'.
We think it's important to note upfront that Definitive Edition will be paid DLC. We have not yet decided on the price for it, but it won't be more than $10. The base game ('Classic Edition') will remain free on itch, but these additional features will cost money. Our thinking that this is a fair way to make sure we're reimbursed for the extra work, without putting up a barrier between new players and what our original audience had free access to ⁠— hopefully this sounds reasonable to everyone, but if you do have any questions or concerns, please let us know.

The Definitive Edition feature list is as follows:
CGs/event images

⁠—

key moments in each romance and the main plot will have accompanying illustrations
Bonus endings

⁠—

unique bad ends for Leandra and Ravi will be added (like Amoret's unique bad end)
New love interest

⁠—

a fresh face for you to kiss
New murderer

⁠—

a not-so-fresh face for you to not-kiss
In addition to launching the Definitive Edition on Itch, we intend to release it to Steam and Android! We're still trying to figure out the paperwork for the other stores and platforms, but otherwise, Charlie knows what they're doing with the technical side. Whether we'll offer the dual Classic Edition/Definitive Edition on them or just release the Definitive Edition we're yet to decide. But something will happen! Imagine a GIF here of Zac Efron singing 'Bet On It' but his face is replaced with Vitali's. Better yet, first person to make that GIF gets a copy of Definitive Edition when it's done. Please. I'm just the writer and I don't know how pictures work. I want a Zefron Vitali.

So, what's the ETA? We don't have a clear time frame yet ⁠— we'd originally hoped for Halloween to be seasonal, but that's unlikely now ⁠— but it's 'months' rather than 'years', for sure. A good chunk of writing is done, new sprites have been sprited, and we know what paperwork we need to fill out even if we don't know what words to put on it. As soon as we have an achievable date we'll let you know. Until then, though, tide yourselves over with a sneak peek of that most tantalising of features... the new love interest.
💀 CIRILLA 💀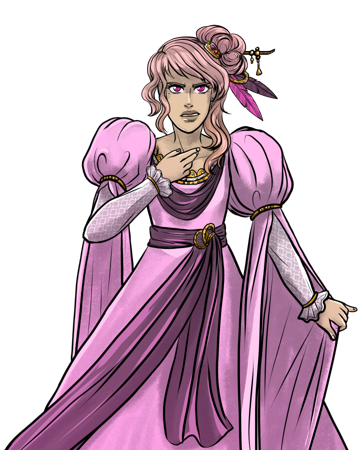 Cirilla Niyazova is a political prisoner the Ambilatrian palace and has been for the last 9 years. Selected as the Cocossatian ambassador when she was 18, to put a fresh and trustworthy face to her oft-maligned country, relations between the two nations declined soon after and she was taken captive. Now in her late 20s, she's become accustomed to her role in the palace, but not any happier within it. She'll put on a smile and offer any and every pleasantry the courtiers want; at the end of the day, the week, the month, the year, the decade ⁠— she never wanted to be there and she's furious she's been kept so long.
Can Vitali help free Cirilla? Will she accept his help? How has she coped, anyway? I'm sure it has nothing to do with...
💀 ??? 💀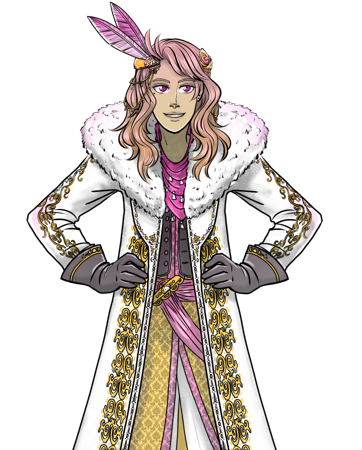 This mysterious gentleman, who's been appearing around the capital in a variety of suspicious circumstances. He loves the theatre, fancy cocktails, and flirting with gullible princes. No-one knows anything about him, except that he's not on the guest list for any of the events he attends. Who could he possibly be??
(Ciril/la is a genderfluid courtier (he/she/they) on a mission to escape captivity without causing another war. They want to go home on their own terms, and they'll play every side in the game to get there. Watch out for them in Catacomb Prince: Definitive Edition, or suffer the consequences.)

Comments
Log in with itch.io to leave a comment.
No news about the Definitive Edition, please?
It's still something we want to do but we ran into some production-stopping problems we haven't been able to solve yet.
We got about 1/3 of the way through production on it, then our programmer had to drop out. So far we haven't been able to find a replacement, but we haven't given up, and though it's slow going there's still a chance it might happen.
For the moment I think it's best to say it's on indefinite hiatus! If any of the solutions we've been looking into work out we'll announce it here as soon as we can.

I hope this eventually does end up coming to pass, as the new character looks WONDERFUL and very exciting and the game is so cool!