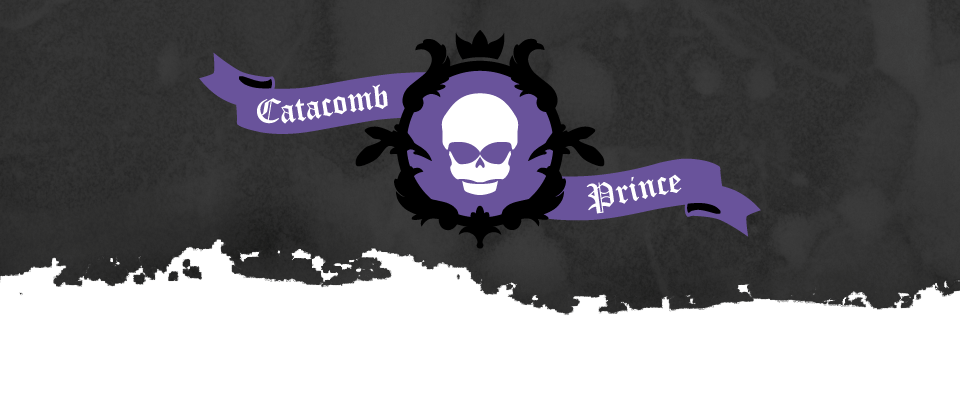 Catacomb Prince
A downloadable game for Windows and macOS
Given what happened at his mother's jubilee Crown Prince Vitali expected he'd wake up with a hangover -- but he never expected he'd wake up dead.
Murdered by an unknown partygoer and resurrected five years later, he returns to a mile-long list of neglected duties: first and foremost, finding a partner, as only married couples can take the throne and his parents are ready to abdicate. Not an easy ask for the average person, let alone a bejewelled skeleton. Then there's that killer on the loose. What's an undead royal to do?
Find love, find your killer... or die again trying.
2-8 hours of suitor-kissing, mystery-solving choice based gameplay
3 suitors of varying genders to kiss -- woo antisocial soldier Princess Leandra (F), hard-partying Duke Amoret (M), or quick-witted artist Ravi (NB)
3 suspects to pursue -- ambitious Auntie Dana, desperate Uncle Karl, and vengeful High Priest Raziel
11 distinct endings, dependent on how your romance and your investigation proceed
Partial voice-acting
Content Warning: alcohol and drug use, discussion of addiction/overdose, gambling, violence, body horror, sexual references. Recommended for ages 16+
Skeleteam
Writer -- kitsubasa 💀 Character Artist -- @roxypolk
UI Artist -- @TempVar_User 💀 Programmer -- charliethegoldfish

Special Thanks to PentagonBuddy (trailer art) and Casey Lucas Quaid (editing)
Cast
Prince Vitali -- Bradley Gareth 💀 Princess Leandra -- Arietta Beralo
Duke Amoret -- Patrick Et Alia 💀 Ravi -- Aiya Islam
Queen Rubina -- Elissa Park 💀 King Ham -- Ryan Hoyle
High Priest Raziel -- Luke Campbell 💀 Karl Waked -- Michael Schrag
Dana Tornincasa -- Lauren Collis


| | |
| --- | --- |
| Status | Released |
| Platforms | Windows, macOS |
| Release date | Apr 26, 2019 |
| Rating | |
| Authors | skeleteam, kitsubasa, Charlie Francis Cassidy, tempvar |
| Genre | Visual Novel |
| Made with | Ren'Py |
| Tags | amare, Boys' Love, Dating Sim, Gothic, LGBT, LGBTQIA, Meaningful Choices, Romance, Skeletons |
| Average session | About an hour |
| Languages | English |
| Inputs | Keyboard, Mouse |
Download
Comments
Log in with itch.io to leave a comment.
Really enjoyed this game! :D
It's very original idea for visual novel game. The story was very good. With few unexpected plot-twist and a lot of branches of offer.
Intead of hunting for every existing ending, i chose to get Leandra as spouse and to solve the mystery of Vitaly's death. I menaged to get 1st ending and I was very happy with how it turned :D
Cool game with a bit dark atmosphere. I really liked it.
I haven't managed to get every ending yet, but I had to leave a comment sooner rather than later. This game is so charming and funny! Each of the characters has such a distinct personality, even Vitali. It's great to play a VN where the player character isn't just a blank slate.
The murder mystery aspect elevates this game over a standard dating sim and the fantasy setting has been intricately built. The world feels real and every glimpse you get of it convinces you that there's even more out there.
I'd read a book set in this world in a heartbeat. Thanks so much for making this game free to play! From the amount of care and effort that's gone into it I'd have easily paid $10 or more.
I'm glad you've enjoyed it so far, and I hope you have a good time with the rest of the endings! Vi's my favourite of the cast to write for, mostly because of how he digs himself deeper whenever he makes a mistake -- like the public proposal option in Ravi's route or the liver witch option in Amoret's route, if you've seen them.
We're working on DLC for later in the year which adds a new murderer + new LI and goes into some additional stuff about the setting (like that war Leandra was involved in...), so if you'd like to read more about the world, it's coming. Our plan is for the DLC to cost money (price TBA) while the base game remains free, so people who enjoy it have the opportunity to keep playing while also compensating us for our work :)

Hi! I'm excited to play Catacomb Prince and will follow-up with a proper review soon; I mostly wanted to comment because I'm amazed at how ENTICINGLY GOOD the trailer was!
The voice for Prince Vitali was shockingly charismatic. His lines were entertaining and well-written, and the expression changes of his sprite were on-point. Video editing could have been better, I suppose, if I wanted to be very nitpicky, but the trailer nonetheless sealed the deal in convincing me to play ASAP. (Which I would say makes the trailer a success).
I followed the link to Youtube expecting to see a couple thousand views and to leave a glowing comment on there, but was surprised to find the video was unlisted. I'm not sure why that could be, and I won't pry; I just wanted to remark on how taken I was with the concept without even touching the game. I've downloaded it and am excited to leave further feedback. :)
Thank you! The editing and the fact it's private are both a symptom of me making it in a bit of a rush; I meant to make a YouTube account for the team to reupload it publically but didn't get around to it and, uh, plain forgot. So I'll add that back to our to-do list!
Hope you enjoy the game proper :)
Okay! I've completed 2/3 of the romance routes thus far, and can safely say I have enjoyed the game proper.
My first impression of the title screen was good. Danse Macabre was a fitting choice; combined with the violet color choice and skill aesthetic of the game, Catacomb Prince felt themed and atmospheric before I even began playing.
The overall concept remains absolutely solid; find love, find your killer, or die again trying. There's a strength in simplicity, and having a straightforward plot (with no significant plot holes that I can name!!) without unnecessarily complex twists and turns is refreshing for a renpy game.
I was immediately drawn to Ravi at first sight (and first listen, me-ow), and romanced them as soon as possible. I was engaged enough with the character that I didn't really take notes as I played, so I will simply say that appreciated that their relationship to Vitali was built on trust and friendship. <3 I had a lot of fun getting to know them, and believe there were just enough choices to present a unique experience in each playthrough.
On a gameplay note, I was confused by the upper right buttons, and believed they were meant to be interactive. By the end of the first playthrough though, I was able to intuit that the top two are simply GOOD progress meters, and progressing the bottom eyeball is BAD. I have an even better understanding of what the buttons represent now, but "GOOD and BAD" were really all I needed to know to achieve the endings I wanted.
The writing surprised me. I enjoyed it well enough, but certain lines read as very modern, whereas I was expecting the game to sound (due to the prior established theme and atmosphere) more historically-inclined language due to the historical fantasy setting. The dialogue is oddly informal/modern in parts, with Ravi using the term "ghosting" at one point. Some of the text seems clipped as well, as if it were written in a hurry. While I think there's room for improvement, I would like to stress that it was not bad by any stretch of the imagination. There were definitely some flavor text gems (lol) that I wouldn't change for the world, and had me screaming with delight, and obviously I enjoyed playing enough to leave an extensive review.
To best illustrate my point, I drafted some sentence edits for two of the game's early scenes;
https://docs.google.com/document/d/1QHwNdR8vSdyiQIr_rV8xY6DyOCeDVuhqJSWUIIg6uaY/...

I can tell that a lot of love and hard work went into Catacomb Prince, and its potential really shines in so many ways. It's a great project, and I'm so happy it exists.
If you guys could use an editor, feel free to hit me up! Otherwise, best of luck. :) I'm excited to wrap up with Princess Leandra when I have more time.
I have a question is there going to be a walkthough if not please add one.
I'll try and get one written! :)
Thank you I was in dire need
Not gonna lie, when I saw this on my twitter feed I thought I'd do one or two playthroughs of this because I just really liked the look of the character design, but after successfully romancing amoret on my first playthrough, i was HEAVILY invested in the environment and story! The writing is sublime, and every character felt unique and fleshed out, and the setting felt real and believable despite having skeletons powered by gemstones! In the end I got every single ending in three days (after getting stuck and realising that your actions at the party actually change who the murderer is) and thoroughly enjoyed this game! Well done to the team, this is an amazing visual novel.
ahhh!! I'm so flattered, I'm glad you decided to give the other routes a try, and that you felt like the setting was well-realised. We tried to take enough from Renaissance Italy to make it feel real, without leaning so hard on it that there was no room for the fantasy elements. Thanks for your comment! :)

I haven't fully completed it yet but I have to say how much I love this VN! Original, funny, great writing style, engaging characters, fascinating worldbuilding. From a gameplay perspective, the design of the murder investigation is such a great idea to keep new playthroughs interesting. And I love Ravi so much omg.
thank you!! I'm glad you're enjoying it, and that the murder structure's keeping you entertained.

There was a murder mystery VN I played a while back where you had to catch the killer every playthrough and hit the romance flags to get a good end, but because the investigation was always the same, when you replayed to see the different love interests the murder scenes were a bit of a chore. I really liked the rest of that game so it was a shame the investigation let the other aspects down. I wanted to avoid that issue with CataPri, which is how the idea for our murder structure came about :D it's wonderful to hear it worked!

Can't wait for this to be released!