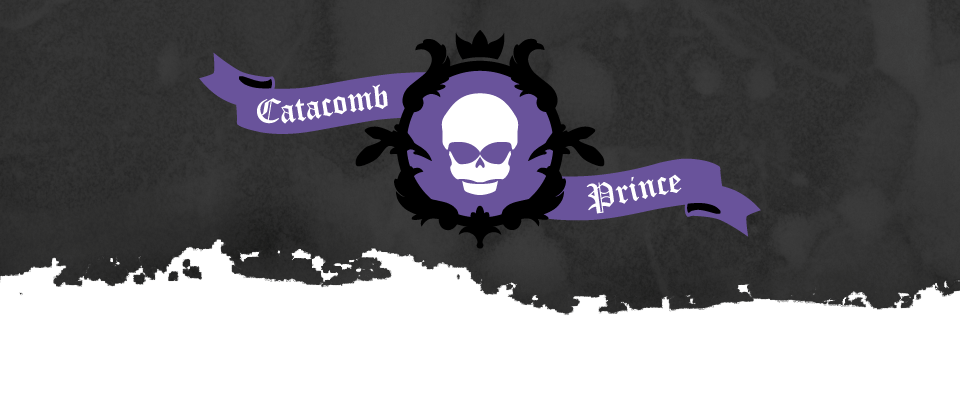 Catacomb Prince
A downloadable game for Windows and macOS
Given what happened at his mother's jubilee Crown Prince Vitali expected he'd wake up with a hangover -- but he never expected he'd wake up dead.
Murdered by an unknown partygoer and resurrected five years later, he returns to a mile-long list of neglected duties: first and foremost, finding a partner, as only married couples can take the throne and his parents are ready to abdicate. Not an easy ask for the average person, let alone a bejewelled skeleton. Then there's that killer on the loose. What's an undead royal to do?
Find love, find your killer... or die again trying.
2-8 hours of suitor-kissing, mystery-solving choice based gameplay
3 suitors of varying genders to kiss -- woo antisocial soldier Princess Leandra (F), hard-partying Duke Amoret (M), or quick-witted artist Ravi (NB)
3 suspects to pursue -- ambitious Auntie Dana, desperate Uncle Karl, and vengeful High Priest Raziel
11 distinct endings, dependent on how your romance and your investigation proceed
Partial voice-acting
Content Warning: alcohol and drug use, discussion of addiction/overdose, gambling, violence, body horror, attempted skeleton sex. Recommended for ages 16+
Skeleteam
Writer -- kitsubasa 💀 Character Artist -- @roxypolk
UI Artist -- @TempVar_User 💀 Programmer -- charliethegoldfish

Special Thanks to PentagonBuddy (trailer art) and Casey Lucas Quaid (editing)
Cast
Prince Vitali -- Bradley Gareth 💀 Princess Leandra -- Arietta Beralo
Duke Amoret -- Patrick Et Alia 💀 Ravi -- Aiya Islam
Queen Rubina -- Elissa Park 💀 King Ham -- Ryan Hoyle
High Priest Raziel -- Luke Campbell 💀 Karl Waked -- Michael Schrag
Dana Tornincasa -- Lauren Collis


| | |
| --- | --- |
| Updated | 3 days ago |
| Status | Released |
| Platforms | Windows, macOS |
| Release date | 31 days ago |
| Rating | |
| Authors | skeleteam, Charlie Francis Cassidy, kitsubasa |
| Genre | Visual Novel |
| Made with | Ren'Py |
| Tags | Comedy, Dating Sim, Fantasy, Gothic, LGBT, Mystery, Romance, Skeletons, Story Rich |
| Average session | About an hour |
| Languages | English |
| Inputs | Keyboard, Mouse |
Comments
Log in with itch.io to leave a comment.
I have a question is there going to be a walkthough if not please add one.
I'll try and get one written! :)
Not gonna lie, when I saw this on my twitter feed I thought I'd do one or two playthroughs of this because I just really liked the look of the character design, but after successfully romancing amoret on my first playthrough, i was HEAVILY invested in the environment and story! The writing is sublime, and every character felt unique and fleshed out, and the setting felt real and believable despite having skeletons powered by gemstones! In the end I got every single ending in three days (after getting stuck and realising that your actions at the party actually change who the murderer is) and thoroughly enjoyed this game! Well done to the team, this is an amazing visual novel.
ahhh!! I'm so flattered, I'm glad you decided to give the other routes a try, and that you felt like the setting was well-realised. We tried to take enough from Renaissance Italy to make it feel real, without leaning so hard on it that there was no room for the fantasy elements. Thanks for your comment! :)

I haven't fully completed it yet but I have to say how much I love this VN! Original, funny, great writing style, engaging characters, fascinating worldbuilding. From a gameplay perspective, the design of the murder investigation is such a great idea to keep new playthroughs interesting. And I love Ravi so much omg.
thank you!! I'm glad you're enjoying it, and that the murder structure's keeping you entertained.

There was a murder mystery VN I played a while back where you had to catch the killer every playthrough and hit the romance flags to get a good end, but because the investigation was always the same, when you replayed to see the different love interests the murder scenes were a bit of a chore. I really liked the rest of that game so it was a shame the investigation let the other aspects down. I wanted to avoid that issue with CataPri, which is how the idea for our murder structure came about :D it's wonderful to hear it worked!

Can't wait for this to be released!